NEW YORK—What do you get when you pack 22,000 Roger Federer fans together and let them tailgate through a rain delay for three hours? One very loud tennis crowd. Just how loud it was going to get inside Arthur Ashe Stadium on Sunday night was obvious from the moment that Federer was introduced. Jimmy Connors, Andre Agassi, Pete Sampras: None of those home-country heroes inspired the sound and fury that Federer did.
Yet as the match began, it quickly became clear that the man across the net from Federer, Novak Djokovic, was probably going to be the player and the athlete to watch through this evening. Djokovic is 15 pounds lighter than Federer, and the difference was obvious as they scrambled across their respective baselines in the early going. As many have remarked over the last two weeks, Federer hardly appears to have lost a step at 34. But it was Djokovic who was the bouncier and spryer player. Federer, after playing rings around his opponents for two weeks in New York, had finally met his athletic match. More important, he was in his prime.
After that cacophonous, long-delayed introduction, it seemed only logical that Federer would come roaring out of the gate with his traditional 30-second opening service hold. Instead, he was off-kilter and looked nervous. He missed a forehand into the net, he missed a forehand long, he double faulted, he missed two more forehands into the net. Even when he won a point with his serve, Djokovic read it, and was on it. While Federer eventually held in that game, he was broken in the next one. It was still early, but a tone had been set. Djokovic, with his back ramrod straight, his shots crisp, and his sneakers virtually smoking as he scraped them across the baseline, had already quieted the crowd—to the degree that it could be quieted—and dug in for a long fight. That was ominous news for Federer; since 2010, he was 2-5 against Djokovic in three-out-of-five-set matches.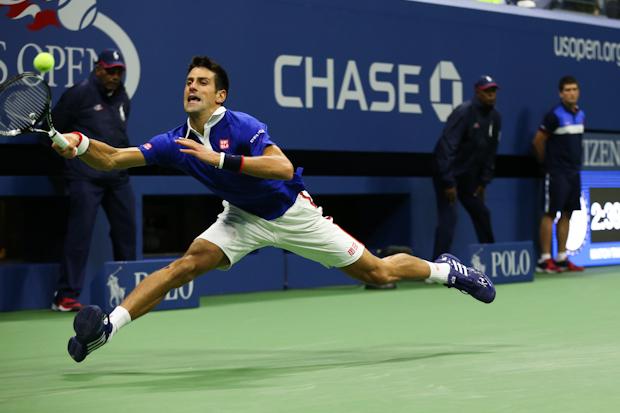 For both players, the final had a very different tone from their previous six matches here. This time Djokovic allowed himself no lulls or distractions, and he didn't cock his ear at the crowd as he had last week. This time Federer, instead of moving forward unimpeded and having his way in rallies, was forced to throw everything in his considerable arsenal at his opponent. That included his running-start SABR return, of course, but it also included his chip-and-charge, his low, dying-slice backhand return, and even his drop shot return. It included serve-and-volley attempts on second serves, and 59 trips to the net.
While Djokovic had the answer to Federer's vaunted SABR—a perfect topspin lob—many of the Swiss's forays and variations worked. Yet he couldn't quite crack the uncrackable Nole; Federer earned 23 break points, but converted only four. In the end, Djokovic won just two more points than Federer, 147 to 145, but those two points were enough to account for two sets of his 6-4, 5-7, 6-4, 6-4 victory.
"I knew that coming to the court. I knew he's going to be aggressive," Djokovic said. "He's going to try to disrupt my rhythm, and he's going to put a lot of variety in his game, slice, chip and charge, come to the net, serve and volley. Which he did."
"But I was ready for it. I was ready for the battle. That's what it was. Three hours, 20 minutes. We pushed each other to the limit, as we always do."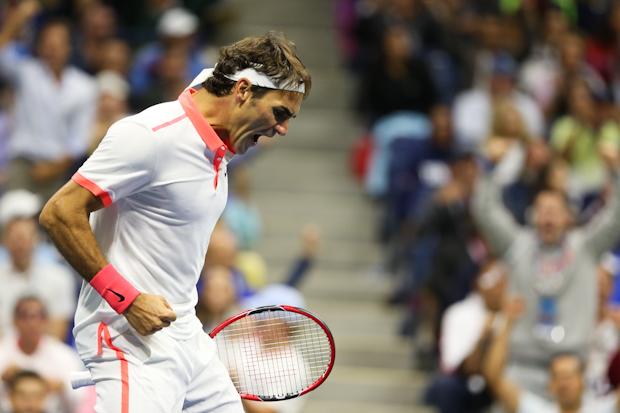 And as always when these two play, it was tense and toe-to-toe. Much of the time, the pace was so quick that Federer and Djokovic seemed to be half-volleying the ball from the baseline. Unfortunately for Federer, it was also a pace that, over the course of three hours against Djokovic, he was going to struggle to keep up. By the start of the third set, Federer appeared to be a step slower; by the end of that set, he had already covered twice as much ground as he had in the entirety of any of his previous six matches at the Open. 
"I think it was the right game plan," Federer said of his attack mode. "Just execution was missing in some crucial moments. But other than that, I think I played a good match. Maybe I haven't played this offensive for a very long time, and that's maybe the reason I was slightly shaky when it came to the crunch on the break points. Who knows?"
The momentum swayed back and forth, but the match was decided by a few crucial games at the end of the third and fourth sets. All of those games were long, all were tense, all were up and down; but as he so often does in matches likes these, Djokovic survived every one of them. 
Down 3-4 in the third set and beginning to reel a little, Djokovic saved a break point with a brave forehand winner. At 4-4, he came from 40-15 down to break with some spectacular defense and stout returning. At 5-4 he saved two more break points and held for the set. Federer had points to win each of those games, but he came away empty-handed.
The same was true in the two most important games of the fourth set. With Federer serving down 2-4, Djokovic fought off a game point and broke with a brilliant forehand return winner off a first serve. Then, serving for the match a second time at 5-4, with the crowd baying all around him, Djokovic saved three more break points, one with a terrific change-up second serve down the T that fooled Federer, and another with a penetrating down the line forehand. While he was on the defensive for much of the night, Djokovic found just enough offense, with his serve and his forehand, when he needed it.
"You could feel the momentum was switching from my side to his, for, I think, all the way to the end of the third," Djokovic said. "It was anybody's game. It was really even.
"Serve was not really a strong link for me tonight, but in the important moments, I got a couple of free points in the last game on serve, and that's what matters."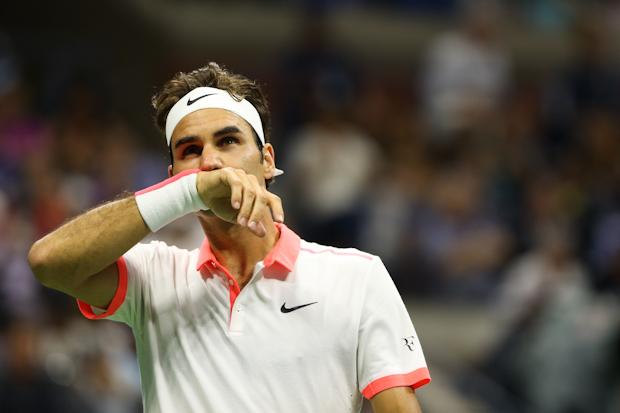 When Federer sent his final forehand return over the baseline, Djokovic pointed to himself, and then pointed to his box. It must have felt as if they were the only people in the building on his side. And for that reason, Djokovic's second U.S. Open and 10th major title will go down as a signature achievement, and perhaps his most impressive. He held off a charging Federer, 19 break points, and a tsunami of booze-filled humanity.
Djokovic, as usual, refused to blame the audience.
"Everybody has the choice to support a player they want to support," he said, "and [Federer] absolutely deserves to have the support he does because of all the years and success that he had, and the way he carries himself on and off the court."
"Me, I'm there to earn the support, and hopefully in the future I can be in that position."
Djokovic understands the dynamic well. Tennis fans are famous for rallying around old champions, and the sport has had few champions like Federer. As raucous and occasionally distracting as this crowd was, I didn't sense hostility toward Djokovic, outside of the unfortunate fact that he was Federer's opponent.
"It's part of the show," Djokovic said. "It's part of what we do, and that's why this tournament is so special."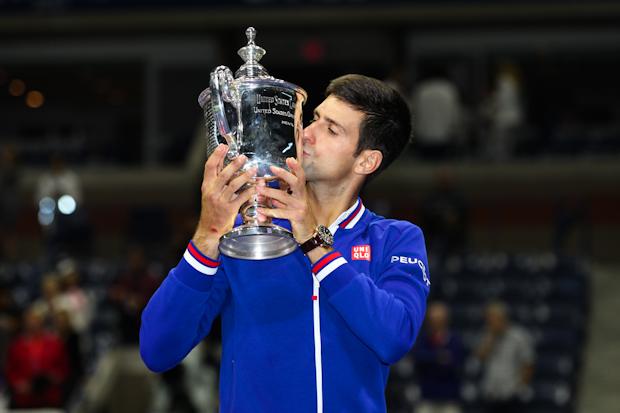 Djokovic was the best part of the U.S. Open show in 2015. Afterward, when he blew a kiss to the crowd that had pulled against him, he had blood on his forearm. That's what the evening took out of him. As he says, hopefully the work and the winning he's doing today will earn him the crowd's love down the road.
For now, in this individual sport, no one represents the stubborn spirit and ultimate worth of the individual the way Djokovic does. Again he was the man alone in the arena; and again he was the one who walked out of that arena a winner.