In this Memorial Day Rally, Joel Drucker and Steve Tignor discuss war heroes from tennis' past, like Joe Hunt, Johnnie Ashe and Simonne Mathieu, and how their examples can help us persevere through uncertain times today.
---
Hi Steve,
As far as Memorial Day weekends go, this one feels both less and more relevant than any in our lifetimes. On the one hand, this weekend has usually been about socializing, the somber memory of war heavily counterbalanced by time with friends and the impending arrival of summer and its festive possibilities.
On the tennis front, Memorial Day for me has split in two. Years ago, sunny mornings of singles, stretched into doubles, wrapped into time spent holding court with tennis mates—several of whom were veterans of World War II, Korea and Vietnam. More recently, vocationally speaking, Memorial Day has meant working at Roland Garros—and taking a brief moment to reflect on both French and American lives lost in battle.
Of course, each of those scenarios is now off the table. And so, with our current situation in mind, the essential meaning of Memorial Day—of lives lost for horrible reasons—has become less about memory and more a clear, present and difficult moment.

Getty Images
As far as American tennis and Memorial Day goes, the person who most comes to mind is Joe Hunt. Born in 1919, Hunt came of age in tennis-rich Southern California. Among his peers were future Hall of Famers Pancho Segura and Jack Kramer—the latter Hunt's good friend and opponent when Hunt won the 1943 U.S. Nationals title.
"He was a strong guy, big serve and volley, and took to grass coming from the Southern California concrete," Segura said years ago. "Everybody thought he'd be the big man, along with Jack Kramer, after the war."
Soon after that win, Hunt enlisted in the Navy and became a fighter pilot. Tragically, on February 2, 1945, while on a training mission off the coast of Florida, his plane crashed. In 1966, Hunt was inducted into the International Tennis Hall of Fame. Nearly 60 years after Hunt's death, sitting in his Los Angeles living room, Kramer recalled the loss of his friend and told me, "There's no question, Joe would have won many more big titles. It was very sad."
Steve, what kind of memories and thoughts does Memorial Day trigger for you?
---
Hi Joel,
Memorial Day is a schizophrenic holiday, isn't it? Bright and hopeful on the one hand, as we see summer come into view; silent and somber on the other, as we think about who and what we're memorializing.
For me, from a tennis point of view, this was always the time of year when the nets began to go back up on the public courts around my hometown in Pennsylvania, and the rivalries that had been put on hold through the winter could be resumed. I was part of a group of players who met on the same set of courts at 5:00 p.m. virtually every summer afternoon. Part of the fun was playing, but a bigger part may have been the running conversations and trash talk that we kept up across four or five courts. Looking back, it seems like a rec-tennis fantasy from a more leisurely century (which it technically was). Are people still done with work by 5:00 these days?
Hunt is also a figure from very different time, and century. In the final of the 1943 U.S. Nationals, he beat his fellow Californian Kramer in four sets. Both were on leave from the military—Kramer from the Coast Guard, and Hunt, as you said, from the Navy. Can you imagine a US Open final today where the two players were taking a break from their military service? Of course, a couple of months ago, the idea that Wimbledon could be cancelled due to a pandemic would have seemed equally unimaginable to me, like a nightmare from another time.
Incidentally, as I'm sure you know, the 1943 final at Forest Hills had a peculiarly dramatic ending. Hunt was leading Kramer two sets to one and 5-0 in the fourth set when he started to cramp. At match point, he collapsed and couldn't get up, but luckily for him, Kramer hit the ball out. It's possible that Hunt wouldn't have been able to play another point, and Kramer, if he had simply made that shot, would have won. Sometimes I wonder: How much satisfaction would I have taken from winning a major title because my opponent cramped when I was way behind? Either way, looking at Hunt, and seeing some photos of him in action, it seems as if the U.S. may have lost its version of Lew Hoad in that deadly flight in Florida.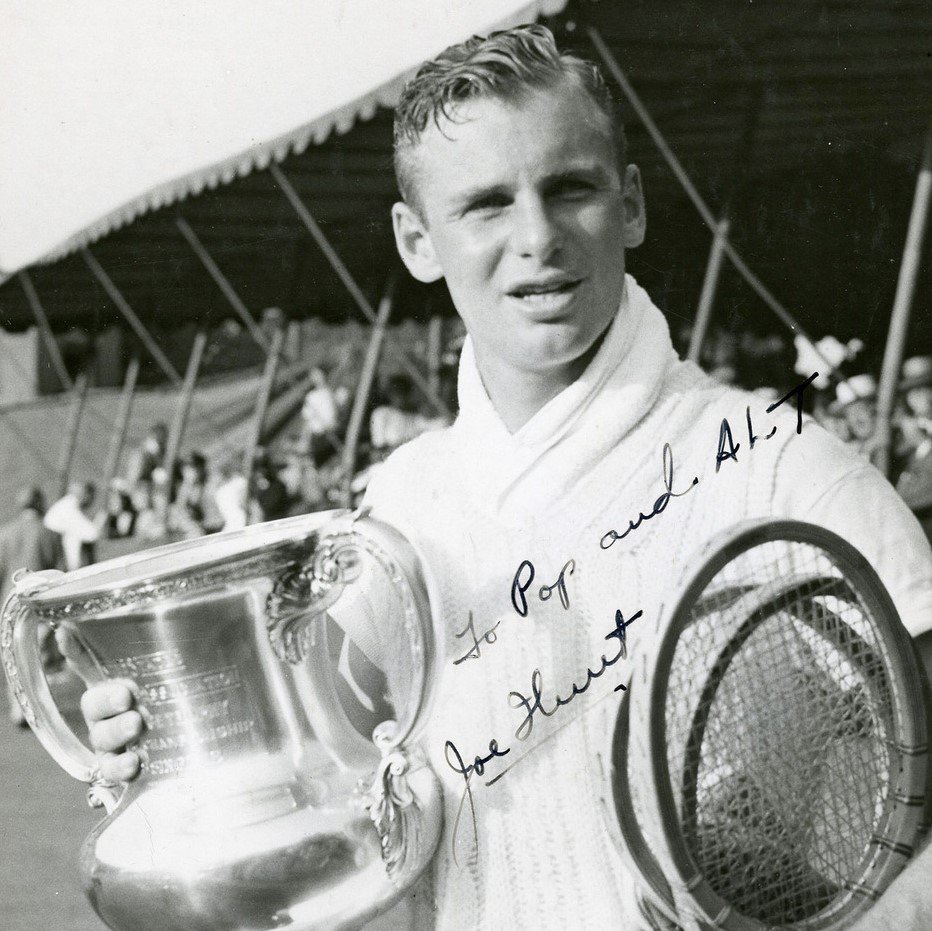 Courtesy USTA
In recent years, some of my Memorial Days have been spent at Roland Garros. That's obviously not a bad place to start the summer, but it's also an appropriate one for the holiday: The grounds are named after a French fighter pilot whose plane was shot down during World War I. This fact makes the tournament site, in my mind at least, into an elaborate and beautiful war memorial. It was built during the 1920s for another type of war: The Davis Cup. The French constructed Roland Garros for the express purpose of hosting, and beating, Bill Tilden and the U.S. team, which they did from 1928 to 1930.
That's not the end of the connection between Davis Cup and war. The attitudes towards the two paralleled each other through the 20th century. For decades, playing Davis Cup was the men's-tennis equivalent of serving your country in the military. To be part of a Cup-winning team was the highest achievement in the men's game, more prestigious than winning a Grand Slam title on your own. If you wanted to be on a Cup team—to be drafted, in other words—you had to stay in the good graces of the amateur officials who ran your federation.
But that changed at the start of the Open era in 1968. When players began to earn prize money, they started to prioritize their careers over playing for their countries. The conflict came to a head—and the pro era began in earnest—in 1973 with the Wimbledon boycott, which was started when Niki Pilic of Yugoslavia chose to enter a pro event rather than do as he was told by his federation and play a Davis Cup tie. The old amateur powers-that-be, the ILTF, suspended him; but the new powers-that-be, the ATP, wouldn't have it.
All of this was happening at the same time that young men in the U.S. were burning their draft cards and protesting the war in Vietnam. Finally, Richard Nixon ended the draft in 1973, the same year as the Wimbledon boycott. In and out of tennis, a new era of individualism, one which no longer recognized national obligations, had begun.
---
Steve,
Fascinating connection, Steve, on how the notion of national service changed in 1973 with both tennis and the military.
Thinking about more ways that military service and tennis are connected, a couple of years ago I heard an amazing story. I was at the West Side Tennis Club at Forest Hills. The club's director of racquet sports, Luke Jensen, was staging an event celebrating the birth of Open tennis in 1968—that watershed year when Arthur Ashe became the first African-American to win a Grand Slam title. That in itself was a fitting way to commence tennis' Open era.
Arthur's younger brother, Johnnie, was in attendance that night. In the late 1960s, both Arthur and Johnnie were in the Army. Arthur was stationed at West Point, juggling his military responsibilities with tennis. Johnnie headed off to Vietnam. As Johnnie's tour of duty there neared its conclusion, he hesitated to return home.
There was an unofficial policy that two brothers should not concurrently serve in the same combat zone. Determined that Arthur not be sent to Vietnam, Johnnie in 1968 opted for another stint in Southeast Asia. But instead of telling Arthur the real reason, Johnnie instead said this would be a good way to become an officer.
---
Lookback: Johnnie reads a letter to his late brother Arthur
---
Each Ashe brother had a very different 1968. Johnnie served during the war's most bloody year. And Arthur lit up the world, reaching the semis of Wimbledon, winning the inaugural US Open and finishing the year by helping bring the Davis Cup back to the U.S. for the first time since 1963. Eventually, Arthur learned precisely what his brother had done for him.
That story was amazing to hear back in 2018. Given our current situation, it's even more inspiring.
---
Joel,
Today is a definitely a day to think about Johnnie Ashe the Marine, alongside his brother Arthur the tennis player. It's also a day to remember that it hasn't just been men, or male tennis players, who have sacrificed for their countries. I'll finish our Memorial Day review by taking us back to Roland Garros, where one of the sport's unsung women heroes has recently been honored.
One of the more disappointing aspects of not getting to see the French Open over the next two weeks is that we won't get to see its long-awaited renovations. Photos of the new roof over Court Philippe Chatrier look as spectacular as you might expect. And this would have been the second spring for the new, intimate, popular, and architecturally innovative "greenhouse court."
That 5,000-seat arena is officially known as Court Simonne Mathieu, named after the French champion who won 13 major titles in singles and doubles in the 1930s. Roland Garros has recognized her before, but this may be the first time the tournament spelled her name correctly. For years, the women's doubles champions at the French have been hoisting a trophy called the Coupe Simone Mathieu—with one "n."
Simonne Mathieu—two "n"s—is worth celebrating in full, and on this day in particular. When World War II broke out in 1939, Mathieu pulled out of the U.S. Nationals in New York and flew home to France. The next year, she was tasked with putting together a women's volunteer auxiliary corps, and she later became its commander. When Paris was liberated in 1944, she marched through the streets with Charles de Gaulle, and she was the chair umpire for what was known as the Liberation Match, an exhibition at Roland Garros between Henri Cochet and Yvon Petra to celebrate the war's end.
Hopefully, we'll see tennis on Simonne Mathieu's court in September, when Roland Garros is scheduled to happen—fingers crossed. For this weekend, as we make our way through our own war-like effort against the coronavirus, I want to take heart from her example. We don't know how long this pandemic will last, and Mathieu and the French must have had little idea how long the war and their occupation would last. In 1940, Roland Garros was cancelled, and from 1941 to 1945 the site hosted an event for French players only. But the Resistance persevered, and the world was welcomed back to Roland Garros, as it will be again.
---